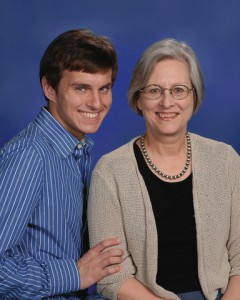 It's hard to believe that nearly six years have passed since our hero first set foot on this primitive island, a verdant paradise surrounded by a sea of humanity and technology.
Every day here is an eye-opening adventure, an enduring struggle to find shelter, fresh water and the intestinal fortitude to survive. And yet, finding safe passage back is of little concern, because for Donna Robinson, this is home…her spiritual home…the one place where she can feel the Lord's presence and all His glory.
You see, the Philmont Boy Scout Ranch in northeastern New Mexico isn't just Mother Nature's premier amusement park or the ultimate proving ground for adventurous young boys. It's God's country, Scouting Paradise. In the shadows of the Tooth of Time outcropping, you'll find Donna teaching those long in the tooth how to lead the next generation of scouts and equip them with the proper survival skills such as confidence, compassion, cooperation and conservation, along with self-reliance and tireless service.
Consequently, Donna spends the better part of August working on the ranch and the rest of the year holed up at the Hearst Castle. No, not the palatial estate overlooking the Pacific, but her secluded retreat overlooking Skillman.
How did a lil' ol' country girl come to lead such a charmed life? Well, let me put it to you this way: Donna has "tied the knot" more times than she cares to remember. First, it was the square knot, then the hitch, the taut-line, the clove hitch, and the list goes on and on. But her favorite one—the knot that made her feel the most secure—was the one she tied with the charming Mr. Hearst.
William Randolph Hearst? No, Frank Thomas Hearst, a distant cousin, many times removed. Come to find out, Tom's sensational in his own right, just not in a "yellow" or dubious way. To the contrary, he's an honorable man—always generous with his time and eager to share his wealth of knowledge with others. And like Donna, he embraces the same spirit of adventure and love for the great outdoors.
Most folks who know Donna describe her as "down to earth." But it goes much deeper than that: 6,000 feet deeper. As a geophysicist and sedimentologist for Mobil, she wasn't the least bit troubled by all the corporate layers; after all, interpreting seismic data and creating subsurface maps of fossil fuel reserves was her forte. Donna didn't complain about the travel, either. Two years in Vienna, six in London and extended field trips to the French and Spanish countryside, as well as Germany, St. Croix and The Bahamas. Quite the passport for a small-town girl. Why even Robin Leach from Lifestyles of the Rich & Famous would be impressed by her stamp collection.
More impressive still, were the lengths to which these lovebirds would go to express their love for each other…flying back and forth between Vienna, London and Stavanger, Norway on a regular basis. Nothing could keep them apart. Not weekends, holidays, the jagged Alps or the temperamental North Sea. And they have the Platinum AAdvantage cards, gold wedding bands and bronzed baby booties to prove it.
Now together with their 19-year-old son Max, they enjoy skiing in Colorado, scuba diving in Cozumel and hibernating in their Lake Highlands home, where they pass the time reading military history, exploring musical genres and dissecting movies from an artistic point of view.
If there's one thing that Donna's learned during her life-long adventure, it's that each of us is called to the Lord's Table to do HIS work. That table could be the ceremonial altar at St. James, surrounded by stained-glass windows and Christian icons. Or, in her case, an 8,583-foot mesa at Philmont, surrounded by God's children and a breathtaking vista of ponderosa pines as far as the eye can see.