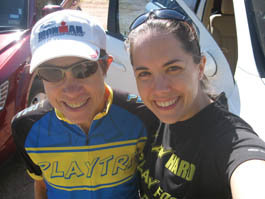 If it doesn't occur to you to link smallpox, September 11 and triathlons in the same thought, you aren't alone. But for Linda Page, it makes perfect sense.
As an anesthesiologist at Baylor Hospital, this long-time Lakewood neighbor was a natural candidate to become a first responder trainee following the terrorist attacks on that infamous day 10 years ago. Part of the training required getting vaccinated for smallpox as that was considered a likely germ warfare threat. "I had already had the shot when I was a kid. I thought it wouldn't be any big deal, so I volunteered," Page said.
But later in that spring of 2003, something went wrong. Page, who practices medicine under her maiden name of Lutz, started feeling tired all the time and noticed her heart beating irregularly. A consultation with her cardiologist delivered a diagnosis: myopericarditis. Both her heart muscle and the pericardial sac surrounding it had become infected, a rare complication from getting the vaccine.
Never a serious athlete, Page began walking regularly to rebuild strength in her heart. But that got boring after a while.
"So I started to add a little running and eventually did a few 5Ks. I also started swimming with a friend in the Dallas Aquatic Masters program. I was in the slowest lane!" she laughed.
Meanwhile, her daughter, Lynette, was busy in dental school in New York. "I'd keep tabs on mom but didn't think much of it. She kept telling me I ought to start swimming at the NYU pool," she laughed. "But I did start running. It fit better with my crazy schedule because it was good, quick exercise."
Back in Dallas, Page decided to compete for the first time in a mini triathlon in the spring of 2004. "I wanted to try it just to say that I've done one, even though it was just a little one," she said.
Lynette was just happy that her then 63-year-old mom ran, had fun and didn't get hurt, but "was not too surprised. Mom is pretty determined."
As Page's skill increased, so did her appetite for conquest. In the triathlon world, Kona, Hawaii is Ground Zero for training and meeting fellow enthusiasts. That is where she met her current coach, Ahmed Zaher, back in January 2006. Since then, Page has done several half and full triathlons, including The Mother of Iron Man Triathlons: the Kona (twice!). A full Ironman race includes a 2.5-mile swim, 112-mile ride and 26 mile run.
When Lynette, a Lakehill Prep alum ('98) returned to Dallas following her 2008 graduation from dental school, she started training with her mom and entered her first triathlon in Denton with her mom as a spectator. Lynette's husband, Anthony Vecchioni, does not race but is supportive as is Linda's husband, John, and son, Jonathan.
The turning point came in Austin last October.
A fluke opportunity gave Lynette a chance to compete in the Ironman Triathlon World Championship 70.3 in Las Vegas, Nev. (You have to be "invited" based on your race completion time, age bracket and a little luck to land one of the few invites offered at certain races.)
"I finished and was ready to leave, but mom said we should stay for the awards. I didn't see any point in that. She said, 'You never know!'" she laughed.
Lo and behold, none of the top winners in Lynette's age category stayed around to claim their shot at Vegas. She was the only one left, so she got it! Once that happened, they knew Linda had to try to win a slot so they could both run in the world championship.
Page's results in a triathlon in Puerto Rico gave her a spot, too. Six weeks ago, mother and daughter completed their races in the Ironman World Championships. The race date? September 11.
Neither of them foresees a change in their passion. They both train with Playtri, a professional triathlon organization founded by Zaher and based in East Dallas. They both find it satisfying to be outside, to stay fit with a goal and competition to keep them motivated, and enjoy the fellowship and respect from their peers.
Linda calls herself "the old lady" of the triathlon community here. She figures she'll keep trying to iron out training wrinkles until she matches or surpasses Sister Madonna, an 80-year-old nun who competes in the Kona. And to think it all started with a little shot…